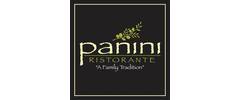 Yes, we're open!
Individual packaging available on marked items.
Contactless delivery available at checkout.
Order Delivery or Take Out from 2 Locations
About Panini

    We got our start as a mom-and-pop pizzeria in 1993. With hard work, prayer, and perseverance, we've grown our business into a Toms River tradition. Our catering branch spans breakfast, panini, and Mediterranean, Italian, and Mexican buffets. Customers agree that our food is always excellent, from fajitas to antipasto.