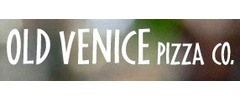 Order Delivery or Take Out from 2 Locations
About Old Venice Pizza Co.

    True, we are the masters of crafting unique, gourmet, better-tasting pizzas, but we also offer so much more! Unlike your standard Italian fare, most of our dishes have a Creole twist, giving you and your guests a uniquely unfamiliar and unforgettable meal. Try eclectic Italian with a touch of Southern Creole for your next event!