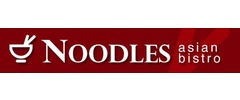 Yes, we're open!
Individual packaging available on marked items.
Contactless delivery available at checkout.
About Noodles Asian Bistro

    You'll find us cooking up a hybrid of Chinese, Thai, Korean, Japanese & Vietnamese cuisine. We aim to cook using old traditions along with new methods, helping our food reflect all sides of Asia. There's plenty of flavors among these varied cultures to help your taste buds sing!