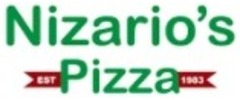 Yes, we're open!
Individual packaging available on marked items.
Contactless delivery available at checkout.
Order Delivery or Take Out from 4 Locations
About Nizario's Pizza

    We began in 1983 with one simple principle, "Great pizza, and nothing less." This is why we use premium flour for our dough, select only fresh vegetables, and top our pizzas with the finest meats. Our customers have helped make these past 30 years a success and we can't wait for the next 30 years of serving delicious pizzas with a smile.