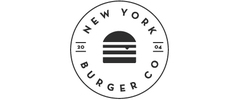 Order Delivery or Take Out from 1 Location
About New York Burger Co.

      Our main ingredients include love, passion, and an obsession with food. That's why we use all-natural beef & turkey, free from preservatives, hormones, antibiotics, or compromises. Our onion rings are homemade, our fries are hand-cut, and every one of our sauces is made from scratch. Fall in love with our burgers at your next event.