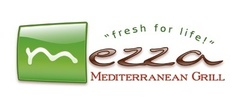 Yes, we're open!
Individual packaging available on marked items.
Contactless delivery available at checkout.
Order Delivery or Take Out from 6 Locations
About Mezza Mediterranean Grill

    Mezza, which means "collection of foods," gets right to the heart of what you'll find on our menu. The unique tastes that are found all over the Mediterranean have been carried here to America, creating what we like to call "Middleterranean cuisine". Since 2003, we have been focused on staying as organic and true to our own culture as possible. We seek out the best of the ingredients we use, and are committed to sustainability.