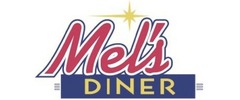 Yes, we're open!
Individual packaging available on marked items.
Contactless delivery available at checkout.
Order Delivery or Take Out from 3 Locations
About Mel's Diner

    There's a reason diner classics haven't changed for over a quarter of a century -- because people love them just the way they are! That's why we're committed to serving up old-fashioned dishes that'll make you feel the comfort and satisfaction this food is meant to bring. From meatloaf and turkey to sandwiches and fluffy pancakes, we've got everything!