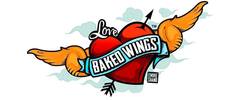 Yes, we're open!
Individual packaging available on marked items.
Contactless delivery available at checkout.
About Love Baked Wings

    Chef to the stars, Chef Mike Shand, brings a healthy original style to chicken wings and one of the best vegan and vegetarian menus in Los Angeles. Everything on the menu is BAKED. There are no freezers, no fryers, no microwaves ever and all sauces and dips are made from scratch. The entire menu is non-gmo and no-artificial anything just crispy BAKED WINGS and fresh produce. Special diet preference? We've got you covered too! BAKED NOT FRIED, BECAUSE WE LOVE YOU.