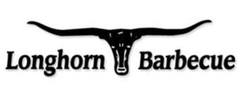 Yes, we're open!
Individual packaging available on marked items.
Contactless delivery available at checkout.
Order Delivery or Take Out from 3 Locations
About Longhorn Barbecue

    We started out in Houston in 1946 and moved to Spokane a decade later to give the Great Northwest a taste of our authentic Texas pit-style barbecue. Since then we've been smoking ribs, pork, brisket, and more, all slathered with our signature lip-smackin' good BBQ sauce.