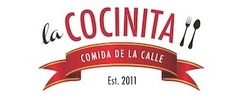 Yes, we're open!
Individual packaging available on marked items.
Contactless delivery available at checkout.
Order Delivery or Take Out from 2 Locations
About La Cocinita

    Previously featured on Top Chef and rated as one of the best food trucks in America, we are dedicated to serving authentic, gourmet street food from Latin America. Keep it traditional with Mexican tacos, or venture to South America with arepas and patacones. Either way, your day will be a bit brighter after sampling the fare from our little kitchen.