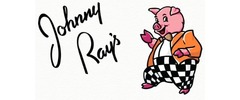 Yes, we're open!
Individual packaging available on marked items.
Contactless delivery available at checkout.
Order Delivery or Take Out from 1 Location
About Johnny Ray's BBQ

    Since 1953, our name has been synonymous with excellence, both in quality and service. We specialize in hickory-smoked BBQ pork, chicken, and beef paired with classic comfort foods. Everyone thinks their mother is the best cook in the world, which is why our motto is "next to home, it's Johnny Ray's".