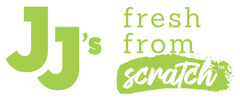 Order Delivery or Take Out from 1 Location
About JJ's "Fresh from Scratch"

      We are a Mexican-Mediterranean fusion restaurant started in 2014. Our unique catering packages are made from scratch daily and our use of nut-free ingredients helps create meals that everyone can enjoy.  With our food, there's no need to take a plane trip - one bite will have you feeling like you're lounging away in paradise!