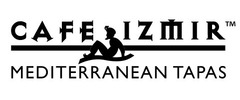 Yes, we're open!
Individual packaging available on marked items.
Contactless delivery available at checkout.
Order Delivery or Take Out from 2 Locations
About Cafe Izmir

    We opened our doors in 1996 with a book of Mama Nazy's recipes, eager friends and family, and a mission to bring Mediterranean tapas to Dallas. Our Old World recipes capture the essence of Greek, Turkish, Lebanese, and Persian cuisine: tabouli, hummus, falafel, ziziki dip, and more.