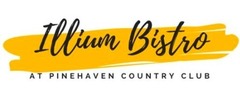 Yes, we're open!
Individual packaging available on marked items.
Contactless delivery available at checkout.
About Illium Cafe & Bistro

    We offer a menu full of mouthwatering dishes like the perfect American breakfast, chicken wings, gourmet sandwiches, pizza, and even your favorite Italian entrees. Whether you want to be creative and pick & choose your meal, or scoop up one of our pre-made packages so you don't have to think about it, we have everything your group could need!