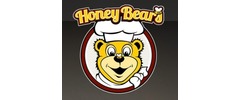 Yes, we're open!
Individual packaging available on marked items.
Contactless delivery available at checkout.
Order Delivery or Take Out from 2 Locations
About Honey Bear's BBQ

    Our BBQ has flavors that have captured the hearts of food lovers and made it a recognizable brand in Arizona. We aim to serve the best BBQ in town at affordable prices. So satisfy your craving for juicy, tender meat and enjoy our special recipes!