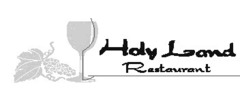 Yes, we're open!
Individual packaging available on marked items.
Contactless delivery available at checkout.
Order Delivery or Take Out from 1 Location
About Holy Land Restaurant

    We're what you might call a hole in the wall joint, but we seek only to impress with the merit of our food. We never cut corners with our preparation, taking care to make sure each item that we serve you is as good as it can be. Take our falafel for example: each piece is cooked to a crisp yet moist perfection. Don't miss us!