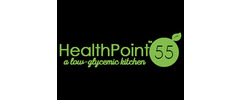 Order Delivery or Take Out from 1 Location
About HealthPoint55: A low-Glycemic Kitchen

    HealthPoint55 is an entirely Gluten-FREE, low glycemic kitchen. Meaning we strive to make delicious food that will also minimize the sugar impact to your body. This is because we believe that excess sugar is a culprit of a bunch of ills including diabetes and heart disease.

We came of age in the Covid-era, so our commitment to sanitation, individual packaging, and environment is top-notch.
All of our containers are eco-friendly and compostable, including forks and wraps!

We are favorite with nurses, doctors, and medical staff at Boston's top hospitals and clinics.

Try us out for your healthcare facility, office or home.
You will love the taste and feel great about your health.
Cheers!