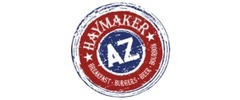 Yes, we're open!
Individual packaging available on marked items.
Contactless delivery available at checkout.
Order Delivery or Take Out from 3 Locations
About Haymaker

    Pair our pulled meats, our signature mini ribbies, and our chicken wings with our house-made BBQ Sauce and you in for one heck of a meal. Our ingredients are locally as often as possible so that we can support and contribute to our communities. We pride ourselves on our homemade recipes because we love to provide you with good, old-fashioned BBQ meals.