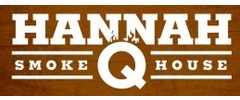 Yes, we're open!
Individual packaging available on marked items.
Contactless delivery available at checkout.
Order Delivery or Take Out from 2 Locations
About Hannah Q Smokehouse

    We started under a small tent on Friday nights in the parking lot of our sister restaurant, Jasmines on the Bayou. Our goal and passion were to bring great BBQ to South Louisiana. Before long, we were running out of BBQ, and Hannah Q Smokehouse was born. We pride ourselves in using the best ingredients, from USDA certified Angus beef to locally sourced produce. Let us welcome you to our BBQ family.