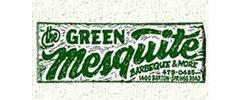 Yes, we're open!
Individual packaging available on marked items.
Contactless delivery available at checkout.
Order Delivery or Take Out from 2 Locations
About Green Mesquite BBQ & More

    We serve mesquite-smoked BBQ that doesn't mess around. KLBJ Radio named our wings the best in Austin in 2012, and the accolades don't end there. Customers rave about our tender pulled pork, creamy potato salad, and pecan pie that's "no lie." Place your order and find out why we've been an Austin landmark since 1988.