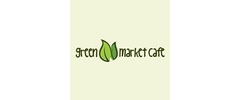 Yes, we're open!
Individual packaging available on marked items.
Contactless delivery available at checkout.
About Green Market Cafe

    We developed our menu with healthy eating in mind. We offer a unique variety of sandwiches, wraps, salads, and rice bowls. With plenty to offer for vegetarian and gluten-free guests, as well, we've got everything you need for a lunch your whole office can enjoy!