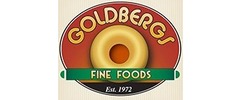 Yes, we're open!
Individual packaging available on marked items.
Contactless delivery available at checkout.
Order Delivery or Take Out from 7 Locations
About Goldbergs Fine Foods

    Beginning as a NY-style father-and-son deli, we've since expanded our menu but maintained a love for traditional food. Our bagels have ranked among Atlanta's finest since 1972. Every day our kitchen buzzes with the boiling of matzah balls, slicing of local produce and the cracking of fresh eggs.