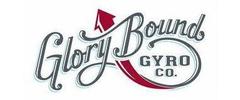 Yes, we're open!
Individual packaging available on marked items.
Contactless delivery available at checkout.
Order Delivery or Take Out from 3 Locations
About Glory Bound Gyro Co.

    The official home of the pepper jack gyro! We put a Southern twist on traditional Greek standbys. We also have vegetarian options so that everyone in your group is sure to be satisfied at your next office meeting.