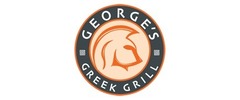 Yes, we're open!
Individual packaging available on marked items.
Contactless delivery available at checkout.
Order Delivery or Take Out from 5 Locations
About George's Greek Grill

    We have been serving our famous gyros, lemon chicken, and other delicious Greek fare in the historic business district of downtown Los Angeles for over a decade! We are passionate about our food which is why we know you'll love our classic Mediterranean dishes!