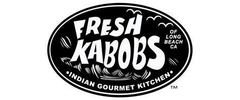 Yes, we're open!
Individual packaging available on marked items.
Contactless delivery available at checkout.
Order Delivery or Take Out from 1 Location
About Fresh Kabobs

    Each savory mouthful of our soulful food brings a burst of well-balanced spices that intertwine with every dish on our menu. We created Fresh Kabobs to provide an extremely healthy and affordable Indian & Pakistani menu so that our customers can try the native recipes that we grew up on.