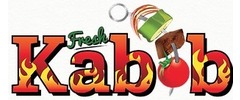 Yes, we're open!
Individual packaging available on marked items.
Contactless delivery available at checkout.
Order Delivery or Take Out from 1 Location
About Fresh Kabob

    Next time you're craving some authentic shish kabob, ours is the tops! We are all about fresh and authentic halal meats, and our Persian-style bread is baked in a clay oven just for you. Finish off your meal with a piece of baklava, and you'll be satisfied all day long.