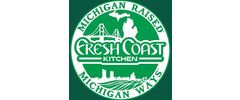 Yes, we're open!
Individual packaging available on marked items.
Contactless delivery available at checkout.
Order Delivery or Take Out from 1 Location
About Fresh Coast Kitchen

    We're a unique deli kitchen offering fresh ingredients, premium meats, and house-made sides to create delicious sandwiches and more. We look to contribute to the successes of our community and state by looking for the best sources of Michigan product, and purchasing from as many of these as possible.