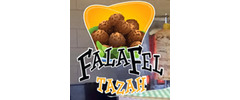 Yes, we're open!
Individual packaging available on marked items.
Contactless delivery available at checkout.
Order Delivery or Take Out from 2 Locations
About Falafel Tazah

    Nothing but the best is our motto. From our halal meats to our perfect produce, our food is a reflection of our practices and we know you can taste it in every bite. With a pension for traditional Middle Eastern cooking and a flare for perfect seasoning, we've got the meals you've been looking for!