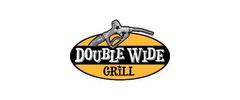 Yes, we're open!
Individual packaging available on marked items.
Contactless delivery available at checkout.
Order Delivery or Take Out from 1 Location
About Double Wide Grill

    We specialize in BBQ with wood-grilled sandwiches and wraps. Don't worry we have plenty of options for our vegetarian and vegan friends as well!