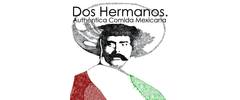 Yes, we're open!
Individual packaging available on marked items.
Contactless delivery available at checkout.
Order Delivery or Take Out from 2 Locations
About Dos Hermanos

    We pride ourselves on authenticity. Whether you're looking for street tacos, tamales, burritos, or enchiladas, you'll find flavors you can get behind when you order from us. It won't be long before you're ordering your daily "dos" for the office!