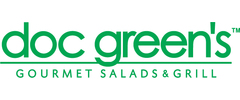 Yes, we're open!
Individual packaging available on marked items.
Contactless delivery available at checkout.
Order Delivery or Take Out from 5 Locations
About Doc Green's Gourmet Salads and Grill

    Our mission is to serve great food for that "healthy as you wanna be" experience. Our menu ranges from succulent salads and wraps & sandwiches to everyone's favorite comfort foods. We also specialize in cookies, brownies, and cupcakes for the perfect ending to a "guilt-free" experience.