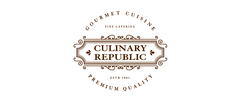 Yes, we're open!
Individual packaging available on marked items.
Contactless delivery available at checkout.
Order Delivery or Take Out from 2 Locations
About Culinary Republic

    Our philosophy is providing unique and healthy foods for everyone. Whether your event is for 10 or 1000 people, or whether you need all your entrees prepared gluten-free or vegan, we have got you covered. With a passion for cooking and creating, we believe no one deserves to be left out.