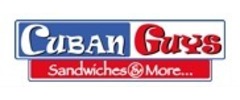 Yes, we're open!
Individual packaging available on marked items.
Contactless delivery available at checkout.
Order Delivery or Take Out from 5 Locations
About Cuban Guys Restaurant

    We're Miami's latest fast-casual spot. On our menu, the Cuban sandwich is the star of the show, alongside our hearty Cuban rice bowls, crisp plantain chips, and green salads. With a few awards under our belt and plenty of rave reviews, we're ready to bring bold flavors to your next event. Customers agree: you shouldn't pass us by.