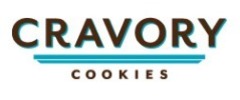 Yes, we're open!
Individual packaging available on marked items.
Contactless delivery available at checkout.
Order Delivery or Take Out from 4 Locations
About Cravory Cookies

    We offer the ultimate cookie experience. Our cookies have a soft, gooey center and a just-slightly-crispy surface— the kind of texture a cookie lover dreams about. Let your office indulge in a playful luxury with gourmet flavors like Pancakes & Bacon, Chocolate Truffle, Almond Joyous, and much more.