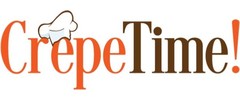 Yes, we're open!
Individual packaging available on marked items.
Contactless delivery available at checkout.
About CrepeTime!: A Coffee & Crepes Company

    Impress your guests with a chef! We'll ensure your guests get exactly what they want. Crepes catering is FAST! Be memorable to your clients with a tasty, hot, custom meal in the short time they have available for lunch or breakfast.