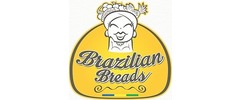 Yes, we're open!
Individual packaging available on marked items.
Contactless delivery available at checkout.
About Brazilian Breads

    We're passionate about serving the authentic and exotic cuisine of Brazil. The delicious recipe for Brazilian cheese bread, also known as "Pão de Quiejo," has been around since the 18th century. We've put a spin on this Brazilian staple, offering unique flavors, sandwiches, and more, all paying homage to the authentic recipe.