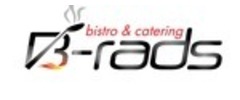 Yes, we're open!
Individual packaging available on marked items.
Contactless delivery available at checkout.
Order Delivery or Take Out from 6 Locations
About B-Rad's Bistro and Catering

    Where else can you get garbage bread stuffed with cheese, and everything from pulled pork to roasted red peppers to taco beef? Yeah, we thought so. We offer the perfect food for any and all occasions, including burritos, pastas, seafood, sandwiches and breakfast. We're glad to B-Rad!