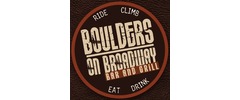 Yes, we're open!
Individual packaging available on marked items.
Contactless delivery available at checkout.
Order Delivery or Take Out from 2 Locations
About Boulders on Broadway

    Our story started over ten years ago, and while countless things have changed since then, our love for the creating unique food has remained the same. We are travelers -- keep an eye out for our internationally inspired dishes, such as chicken fajitas, bruschetta, and hummus. We'd love to take your next event around the world!