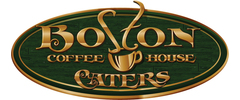 Yes, we're open!
Individual packaging available on marked items.
Contactless delivery available at checkout.
Order Delivery or Take Out from 4 Locations
About Boston CoffeeHouse

    Our success is not by accident! Our unique assortment of specialty drinks and our award-winning food selection are what keep people coming back time and again. We are a coffee house, but we also offer a variety of delicious sandwiches and breakfast options. No matter what time your event is, we're sure to be a great fit.