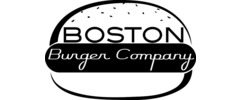 Yes, we're open!
Individual packaging available on marked items.
Contactless delivery available at checkout.
About Boston Burger Company

    Our "The King" Burger (featuring peanut butter, bacon, fried bananas & cinnamon sugar) was a Boston Globe top 25 burger, and we won Rachel Ray's "Battle of the Burger" in 2011. Our team of Burger Meisters are equipped to feed anywhere from 10 to 10,000 people. Just ask Guy Fieri - our burgers are sure to impress at your next corporate event.