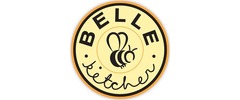 Yes, we're open!
Individual packaging available on marked items.
Contactless delivery available at checkout.
Order Delivery or Take Out from 2 Locations
About Belle Kitchen

    Our doughnuts have been voted the best doughnuts in Oklahoma, and we were named as one of the top ten bakeries in the state. All of our items are crafted from scratch, using a natural and simple recipe with only five ingredients. We are absolutely passionate about bringing the most delicious and beautiful doughnuts to the Oklahoma City community and look forward to serving you!