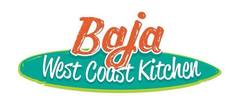 Yes, we're open!
Individual packaging available on marked items.
Contactless delivery available at checkout.
Order Delivery or Take Out from 1 Location
About Baja West Coast Kitchen

    We serve up fast-casual food with a West Coast attitude. Bringing some California sunshine to Northeast Ohio, you haven't tasted anything like this yet. Try our signature tacos, wraps, or salads to brighten up your day.