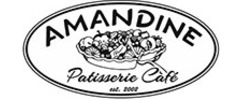 Yes, we're open!
Individual packaging available on marked items.
Contactless delivery available at checkout.
About Amandine Patisserie Cafe

    Since 2002, we've taken pride in serving the best in European-style pastries, sandwiches, pastas, and more. Customers say we're worth 5 stars for our desserts alone. Whatever you order, be sure to save room for a treat like our gateau, cheesecake, or tarte citron.