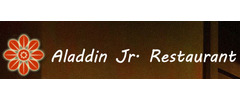 Yes, we're open!
Individual packaging available on marked items.
Contactless delivery available at checkout.
Order Delivery or Take Out from 3 Locations
About Aladdin Jr. Restaurant & Cafe

    We specialize in classic Middle Eastern fare and we offer numerous vegetarian options. Our customers love our shawarma and baba ghanouj. We'd love to help you bring some exciting and flavorful food to your next event!