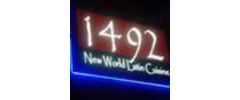 Yes, we're open!
Individual packaging available on marked items.
Contactless delivery available at checkout.
Order Delivery or Take Out from 2 Locations
About 1492 New World Latin Cuisine

    We strive to be the people's choice for quality and taste when it comes to Mexican food. We are proud to offer delicious and authentic Mexican dishes to the Oklahoma City community using Oklahoma-sourced ingredients! Keeping our products local is at the forefront of our business.