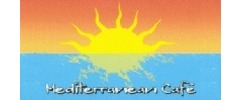 Earn up to 5% in ezRewards Points with every order, and convert them to Amazon.com Gift Cards.
Order Delivery or Take Out from 1 Location
Colorado
Broomfield

1 W Flatiron Crossing Dr

Order Now
About Mediterranean Cafe
On ezCater.com since 10/23/2015

    We're the place to go for flavors that capture the robust spirit of the Mediterranean. Our menu offers tasty and better-for-you alternatives to other fast-casual options. Can't decide what you want? Try our Feast catering package for a sampling of everything from spanakopita to moussaka.