What We Like About
Posted on Wed 05/16/12 at 4:48 PM by ezCater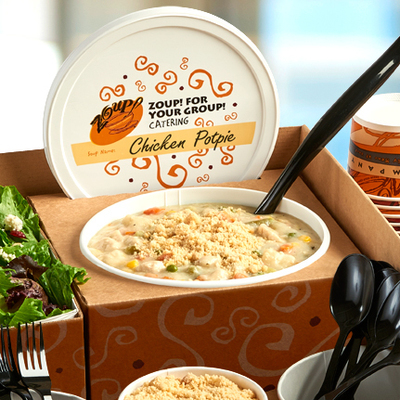 Zoup!
does a bang-up job at preparing tasty, hand-crafted soups that are always real crowd-pleasers. In fact, everybody in the ezCater office who has tried
Zoup!
is quick to say how much they love it. With twelve rotating varieties of soup offered daily, you can always find one that suites your mood.
Zoup!'s
catering
menu
is easy to order from because you get a lot of flavor without an overwhelming number of decisions to make. Simply choose from 1 of the 5
catering
packages offering different soup, salad, and sandwich combinations, and you're all set. One of our favorite soups is the Chicken Potpie. We don't know how they do it, but they have truly managed to recreate the flavors and goodness of this hearty dish in a soup form.
Another thing we really like about Zoup! is the friendly, can-do attitude of the staff. They usually try to help out with last minute catering orders when they can. And it may be called Zoup!, but we've found their salads and cookies to be quite delicious as well.
Customer Reviews
Recent reviews of Zoup! by ezCater customers:
Posted on Thu 11/10/11 at 7:26 AM by Lindsey L in Illinois
Critic Reviews
Reviews of Zoup! from blogs and critics around the web:
Indianapolis Business Journal
Review of Restaurant Chain
Patrons have a dozen soups to choose from and a smattering of sandwiches and salads. And there's a friendly server standing at the soup vats, ladle in hand, offering samples of any or all of the concoctions before customers place an order.And since 10 of the soups change daily, even seasoned customers may slow down in order to weigh the potentia...
When it's cold outside, Zoup! warms from within
Review of Restaurant Chain
Throughout the year, Zoup! features 100 different soups from smooth Tomato Basil to a comfortably spicy White Chicken Chili. Their twelve-soup selection constantly rotates each day with two daily mainstays, Lobster Bisque and the hearty Chicken Pot Pie.
Philadelphia Magazine
Review of Restaurant Chain
You can have a soup craving in 90-degree July heat, as evidenced by the wait for tables and the long (but quick-moving) line at the latest chain-trend to hit our area, Zoup. Choose from 12 constantly changing soups, including such offerings as hearty Santa Fe Chicken, chilled gazpacho and creamy lobster bisque.