What We Like About
Posted on Thu 06/07/12 at 4:41 PM by ezCater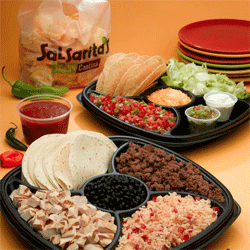 If you're looking for a Taco Bar,
Salsarita's Fresh Cantina
is the place to get it. Not only is this one of the most reasonably priced Mexican chains out there, but their
catering
is quite tasty too. Salsarita's guacamole and salsas are all made fresh daily, and their meats are grilled and cut in-house. It's these kinds of touches that really make a difference between so-so Mexican and great Mexican.
Salsarita's Taco Bar is the best seller from their
catering
menu
and for good reason. You get your choice of meats plus black beans, Spanish rice, crunchy corn tacos, toppings, three different salsas, chips, and drinks for about $8.00 per person. It's hard to do much better than that. Just add some of their Grilled Veggies (they're very popular) and a dessert, and you have a complete meal at a great price point. And it has the added bonus of being able to satisfy both meat eaters and vegetarians alike.
Critic Reviews
Reviews of Salsarita's Fresh Cantina from blogs and critics around the web:
minxeats
Review of Restaurant Chain
Salsarita's allows one to choose a receptacle (taco, burrito, nachos, quesadilla, salad) and fill it with a choice of protein (chicken, ground beef, shrimp, etc) or veggies, choice of beans (black or refried) and any number of other accoutrements (several salsas, guac, sour cream, cheese, cilantro), making their food completely customizable.
Baltimore City Paper
Review of Restaurant Chain
Burritos, quesadillas, tacos, nachos, and salads--created at the counter, to your liking--are the staples at Salsarita's, the latest "fresh Mex" chain-dining establishment to open in the city. Get in line, try to sort out the (rather large) menu while you wait, and move through the fixin's stations, assembly-line style, until your order is compl...
Buffalo Chow
Review of Restaurant Chain
By the standards of local counter-style Mexican places, Salsarita's is a strong choice, thanks to its freshness and the variety of customizations available for its very satisfying entrees.