What We Like About
Posted on Wed 04/25/12 at 4:38 PM by ezCater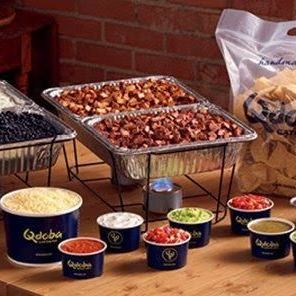 Qdoba
has made a name for itself by serving up Mexican cuisine that's also quite tasty. Our customers always comment on how fresh the food is and for good reason – even the guacamole is homemade and made daily. We've found them to be a good choice for groups of 10 to 20 people and up because their
catering
menu
is comprised mostly of buffet-style options.
One of our favorites is the Hot Naked Burrito Bar. It takes the carb-conscious approach of offering all the items you expect with a burrito bar — including your choice of meat and beans, cilantro lime rice, cheese and sour cream, and an assortment of salsas and guacamole — without the tortillas. Tortilla chips are included for those searching for a carb fix, and you can simply (and cheaply) order tortillas for those in your group who want them. Just sit and imagine all of the long-suffering, uneaten tortillas that now have a chance to fulfill their destiny thanks to
Qdoba
!
Another good option from the Qdoba
menu
is their deservedly popular 3-Cheese Queso. Not only is it killer, but it also has a great price point. When it comes to sides, note that you have to make sure that you add any sides of rice and beans, as they are not included with most of
Qdoba's
catering
packages. But you do get plenty of servings for your extra dollars.
Critic Reviews
Reviews of Qdoba from blogs and critics around the web:
Gayot
Review of Restaurant Chain
These Mexican wrap houses give rival Chipotle a run for their money. They do so with a very similar formula---hefty burritos hugging a smorgasbord of wholesome fillings. The grilled chicken version is the most popular...Tacos feature a thick shell and tasty fillings; there's also the naked burrito (served in a bowl instead of the typical flour t...
SW Michigan Dining
Review of Restaurant Chain
I was talking to my brother and trying to explain to him what Qdoba was. It's not quite like the normal "Mexican" fast food places. They have more options and most of the food is actually made fresh on site. If I want good tacos that aren't 80% something other than beef, I go to Qdoba.
Free Qdoba for me!!! Mango Chicken Salads...good or no good?
Review of Restaurant Chain
The Mango Chicken Salad has a mango salsa on top of chicken & romaine lettuce with a cilantro-lime vinaigrette. It costs around $6 from what I can remember. I added salsa, sour cream and cheese. I have to say - it's really good. I'm not a salad-orderer but I would DEFINITELY order this again.
You've Been Reviewed!
Review of Restaurant Chain
Deciding what to eat is tough. After an internal debate I chose the pulled pork. This proved to be a good decision. They also have chicken, steak or ground beef. You can also go vegetarian if you like.
Qdoba: A Forever Favorite
Review of Restaurant Chain
Qdoba has been a favorite of mine for a long time and I happy to say that I was not disappointed when I visited there again this week. One thing that I find really neat is that you can get Qdoba's burritos wrapped in a tortilla per usual or you can get what they call a Naked Burrito which has all the ingredients you would normally put in the bur...