What We Like About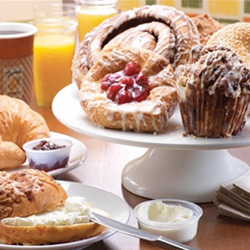 Customer Reviews
Recent reviews of Panera Bread by ezCater customers:
Posted on Tue 01/24/12 at 11:25 PM by Elyse W in North Carolina
Critic Reviews
Reviews of Panera Bread from blogs and critics around the web:
Gayot
Review of Restaurant Chain
This fresh-faced bakery café chain out of St. Louis does a brisk business in overstuffed sandwiches and soups served in bread bowls. The menu also offers seasonal salads and will periodically change things up with new creations such as mac 'n' cheese with Vermont cheddar, a chopped Cobb salad with apple wood-smoked bacon, and a turkey-artichoke ...
Ode to Panera – thanks for the great office space.
Review of Restaurant Chain
Panera serves real food. And the food is great. The multitude of bagel options for breakfast are creative, made with quality ingredients…Even better, if you're around for lunch or dinner, there are great sandwiches, soups, salads and now some artisan pizza in the evenings. It's nice to have a place that can satisfy at any time of day.
Panera Bread… Fresh Ingredients, Quality Food
Review of Restaurant Chain
One of the things I most enjoy about Panera Bread is their attention to quality. I know when I go to dine at their bakeries that everything is made from scratch and that their breads are baked fresh every morning.